Hello. You have reached the website of
The Lord
, Lord Eric Haugen.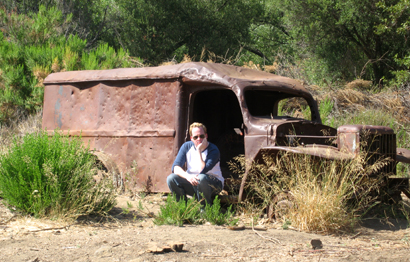 Since I've been in LA, I've seen many celebrities, including "Tom Cruise," "Jennifer Aniston," "Jackie Chan," and even "Peter Horton." But even better than seeing a celebrity is coming across a rusted-out relic from the "M*A*S*H" set at the end of a hike in the Santa Monica Mountains! Unfortunately for me, moments after this photo was taken, "Gary Burghoff" approached me begging for change. He apparently has never left the place.
LMP is on a bit of a hiatus with me on the West Coast and Ryan back in Chicago, but we are aiming to finish our latest studio album this fall for an '08 release. Also, we have some songs being used in a bona fide Hollywood movie soon … details to follow.
Discography (solo)
Discography (LMP)
Discography (other bands)
* * *
Here is my completely unnecessary photo gallery.
And then there's all my lyrics.
If you require further detail about me, you can read my FAQs.