Click the tracks w/ the

for audio
(each mp3 is 300K, 30 secs, 80kbps, mono)

LMP
'A Century of Song' 6-cdrbox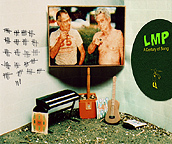 TRACKLISTS:
disc 1
disc 2
disc 3
disc 4
disc 5
disc 6
SOUNDS:

The Century Megamix! (9.2M ~ 7:55)


1902 - Bill Bailey, Won't You Please Come Home (500k ~ 0:30)


1916 - Where Did Robinson Crusoe Go (With Friday on Saturday Night) (500k ~ 0:30)


1925 - Sweet Georgia Brown (3.4M ~ 3:47)


1933 - Carioca (500k ~ 0:30)


1942 - Don't Get Around Much Anymore (500k ~ 0:30)


1960 - Will You Love Me Tomorrow? (500k ~ 0:30)


1972 - Theme From Deep Throat (500k ~ 0:30)


1987 - Pop Goes the World (500k ~ 0:30)


1989 - Happy Birthday (941K ~ 1:00)


2002 - Back to A Century of Song (500k ~ 0:30)


Xanadub (3.3M ~ 3:35)
More CENTURY sounds can be found here
103 years in the making, 2 years in the studio, at least a year's worth of production delays … and finally, A Century of Song makes its way to cd with the long-promised box set.
From 1999-2001, Ryan and Eric of LMP recorded one cover tune from every year of the 20th Century, posting the results as they went along to their website. In 2004 they finally released the box set, featuring every track remastered, remixed, and in some cases, rethought … some say it's the longest pop album ever recorded!
The set includes 5 discs containing the entire project (1900-2001), plus a bonus disc of outtakes, demos, remixes, and assorted studio weirdness. A booklet with extensive liner notes is included as well … all homemade like Harry Smith's folk anthology.
The Centurybox was limited to 100 hand-made boxes, with no re-press planned unless some deeper-pocketed record label comes along and wants to deal with that. The discs are cdr; the booklet is photocopied and hand-collated. Comes in a handsome box of sturdy plastic with full-color sleeve.
Total running time: 7:29:26

PHBOX01 released 2004. Sold out early 2005. Watch for torrents.
LMP (La Musique Populaire): Ryan Bassler (instruments, vocals) and Eric Haugen (instruments, vocals).
Guest stars: Andrew Bawden (viola, vocals), Casey Blick (guitar, percussion), B.O.B.B.Y.-IV (vocals), J.B. Bridge (bass, percussion), Gen Burjes (vibes, percussion), Douglas Calhoun (drums, percussion, vocals), Bill Corrough (vocals, guitar), Jennifer Cutilletta (vocals), The Eberts of Phoenix Men's Chorale (vocals), Richard Emrich (violin), Miss Ava Fain (vocals), The Four Robots (vocals), Tom Garza (drums), Norma Haugen (vocals), Michael Hollinger (guitars), Rick Groves (guitar, percussion), JustJenn (vocals), Micah McClain (drums), Sarah McKinney (vocals), Aaron Mihelbergel (vocals), The NuFlapperz (vocals), John Reyes (guitar, vocals), Timothy Riordan (trombone), Matt Sampson (saxophones), Lauren Schweitzer (cello), SR-1668 (vocals), Thomas P. Tiger (vocals), Xyylivia (vocals).
"It sounds like everyone's having a great time. How many box sets can you say that about?" – Seattle Weekly
"If you're going to become a hermit, you might as well do it in style, and what Eric Haugen and Ryan Bassler lack in suavity and flair they make up for with sheer doggedness and idea mongering." – Village Voice
"Fantastic!!" – PopPolar
"An incredibly dense tour through the history of popular music so packed with creativity and originality that it borders on impenetrable." – Junkmedia
"Achieves an inspired level of absurdity while reclaiming a forgotten heritage of song. The only disappointing thing about A Century of Song is that more people won't hear it." – All Music Guide
"What if … soulwax were locked in the highschool av room for a weekend in 1980?" (re: 'Hits of '69') – The Watcher, posted on Fluxblog
"In a just world, A Century of Song will take its rightful place among the canonical works that represent and celebrate the music of the 20th century." – Edward Burch/Pamphlet Press
Other LMP releases: