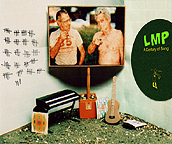 A Century of Song (2004)
103 songs
1 from every year, 1900-2002
Plus a bonus disc of outtakes, demos, remixes, and assorted weirdness
RELEASING 15 NOVEMBER, 2004: It's the box set that collects LMP's entire Century of Song project (the longest pop album ever made!) along with a full disc of previously unreleased material and a 132-page booklet explaining it all.
Recorded between 1999 and 2002 and clocking in at more than six hours, A Century of Song is possibly the longest pop album ever, and reflects LMP at their most experimental. Covering one song from every year of the 20th century, this set ruins any expectation you might have for LMP to settle down and stick to one style.
It's ambitious, ridiculous, chaotic, and dizzying. The super-limited run of 100 boxes will not be repressed. To find out more about how to get yourself a CENTURYBOX, click here.
MP3's from the CENTURY project can be found here.